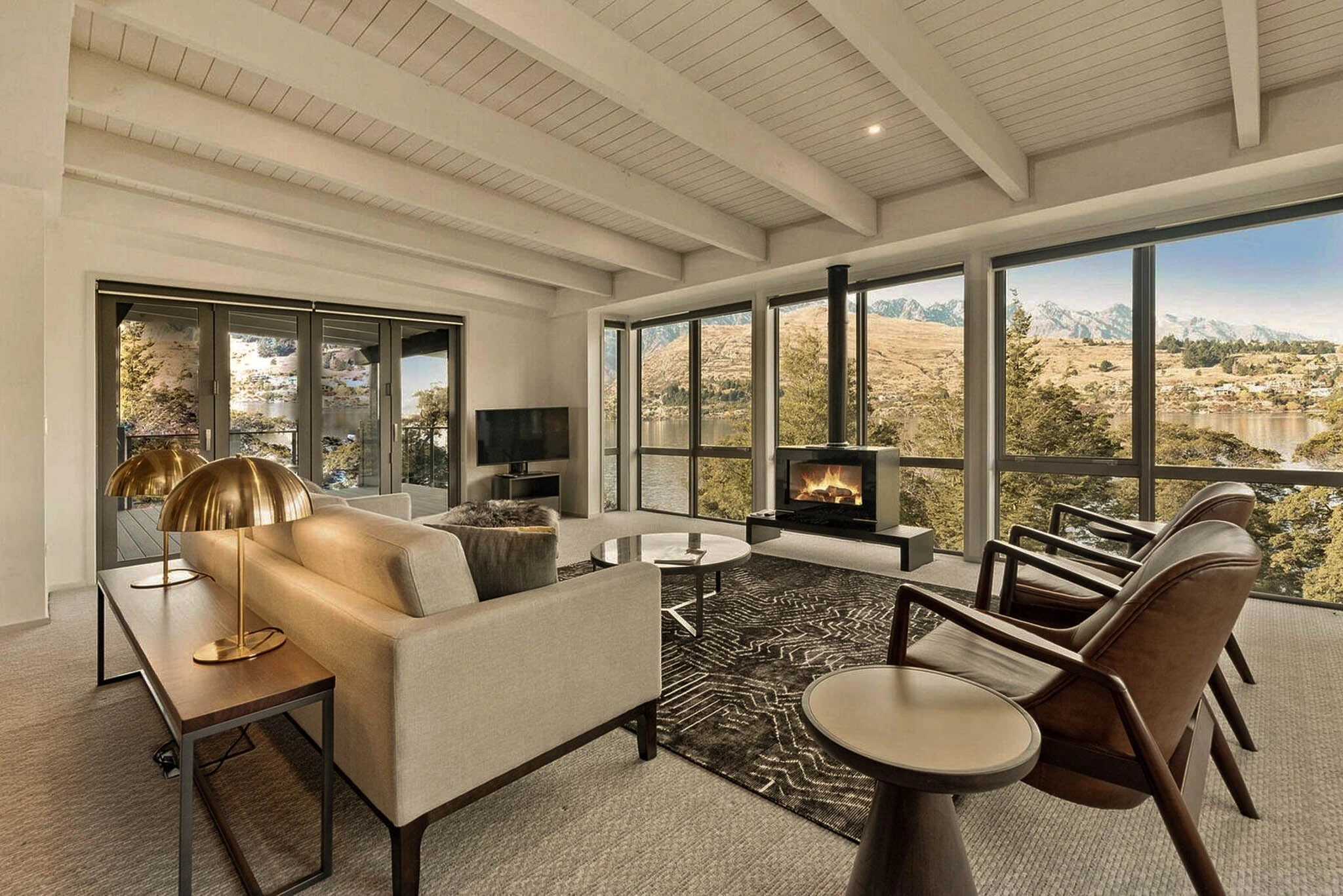 Queenstown
The Rees Residences
6
3
3
The Rees Lakeside Residences are superbly positioned just a stone's throw from the shores of beautiful Lake Wakatipu.
With an absolute lakefront position and its own gated access, The Residences offer all the privacy, character and charm of a home away from home, but also deliver the convenience, service and total peace of mind that comes with being part of a fully managed 5-star hotel.
The Residences feature 3 bedrooms all with ensuite bathrooms, large living areas and a spacious outdoor terrace, adjacent to the living area boasting lake and mountain views is the perfect setting to effortlessly entertain. The lower level terrace is home to a generously sized spa pool and an all-weather Bose sound system.
Being that there are 5 separate residences next door to each other, it's an ideal setting for families and multi-generational groups looking for private accommodation with space and independence.
Season dates, rates and minimum night stay requirements may apply. Please contact one of our team for accurate availability and quotes.
Read more
Read less
Air Conditioning
Fitness / Gym
Heating
Jacuzzi / Hot Tub / Spa
Kitchen
Lake View
Mountain View
Laundry Facilities
Indoor Fire
Lake & Mountain Views
Lounge
On-site restaurant
Central Location
Outdoor Seating
BBQ
Underfloor Heating
Wi-Fi
Coffee Machine
Balcony
Suitable for Events / Weddings
Executive Lake View Penthouse (x2)
Master BedroomSuper King sized bed + ensuite
Bedroom 2Super King sized bed (Or twin king singles) + ensuite
Executive Lake View Hotel Room (x????)
Master BedroomSuper King sized bed (Or twin king singles) + ensuite
Executive Lake View One Bedroom Apartment (x???)
Master BedroomSuper King sized bed + ensuite
Executive Lake View Three Bedroom Apartment (x???)
Master bedroomSuper King sized bed
Bedroom 2Super King sized bed
Bedroom 3Super King sized bed (Or twin king singles)
Bathroom 1Shower and spa bath
Bathroom 2Shower
Executive Lake View Two Bedroom Apartment (x???)
Master BedroomSuper King sized bed + ensuite
Bedroom 2Super King sized bed (Or twin king singles) + ensuite
Lake View Hotel Room (x???)
Master BedroomSuper King sized bed (Or twin king singles) + ensuite
Lake View One Bedroom Apartment
Master BedroomSuper King sized bed (Or twin king singles) + ensuite
Lake View Three Bedroom Apartment
Master BedroomSuper King sized bed
Bedroom 2Super King sized bed
Bedroom 3Super King sized bed (Or twin king singles)
Bathroom x 2
Lake View Two Bedroom Apartment
Master BedroomSuper King sized bed
Bedroom 2Super King sized bed (Or twin king singles)
BathroomItalian designed
Lakeside 3 Bedroom Villa
Bedroom 1Super King sized bed (Or twin king singles) + ensuite
Bedroom 2Super King sized bed (Or twin king singles) + ensuite
Bedroom 3Super King sized bed (Or twin king singles) + ensuite
Superior Hotel Room
Master BedroomSuper King sized bed (Or twin king singles)
BathroomSpa Bath
Superior One Bedroom Apartment
Master BedroomSuper King sized bed (Or twin king singles) + ensuite
Superior Three Bedroom Apartment
Master BedroomSuper King sized bed
Bedroom 2Super King sized bed (Or twin king singles)
Bathroom 1Shower + Spa Bath
Bathroom 2Shower
Superior Two Bedroom Apartment
Master BedroomSuper King sized bed + ensuite
Bedroom 2Super King sized bed (Or twin king singles) + ensuite
The Rees Residences
Master BedroomSuper King sized bed (Or twin king singles) + ensuite
Bedroom 2Super King sized bed (Or twin king singles) + ensuite
Bedroom 3Super King sized bed (Or twin king singles) + ensuite