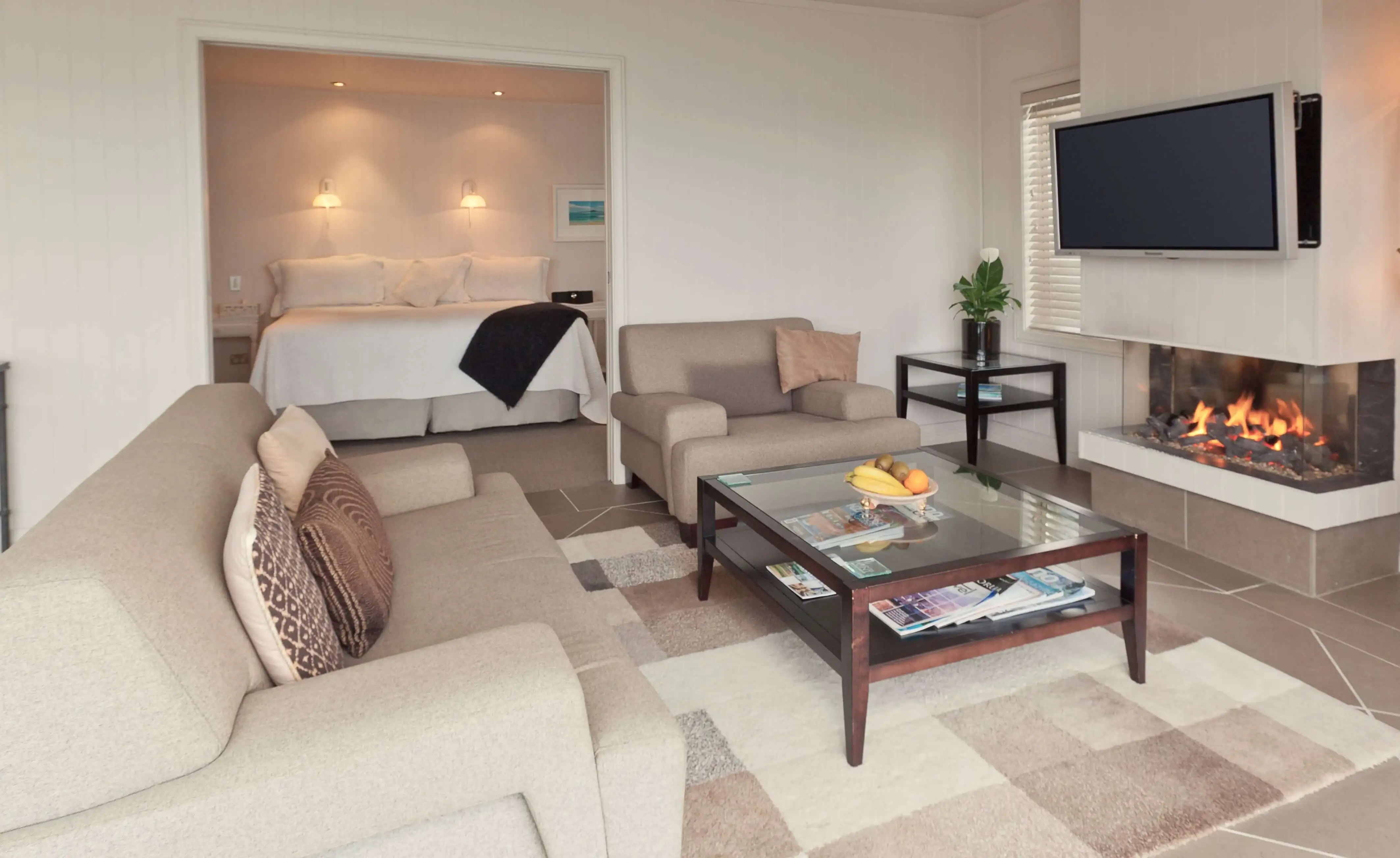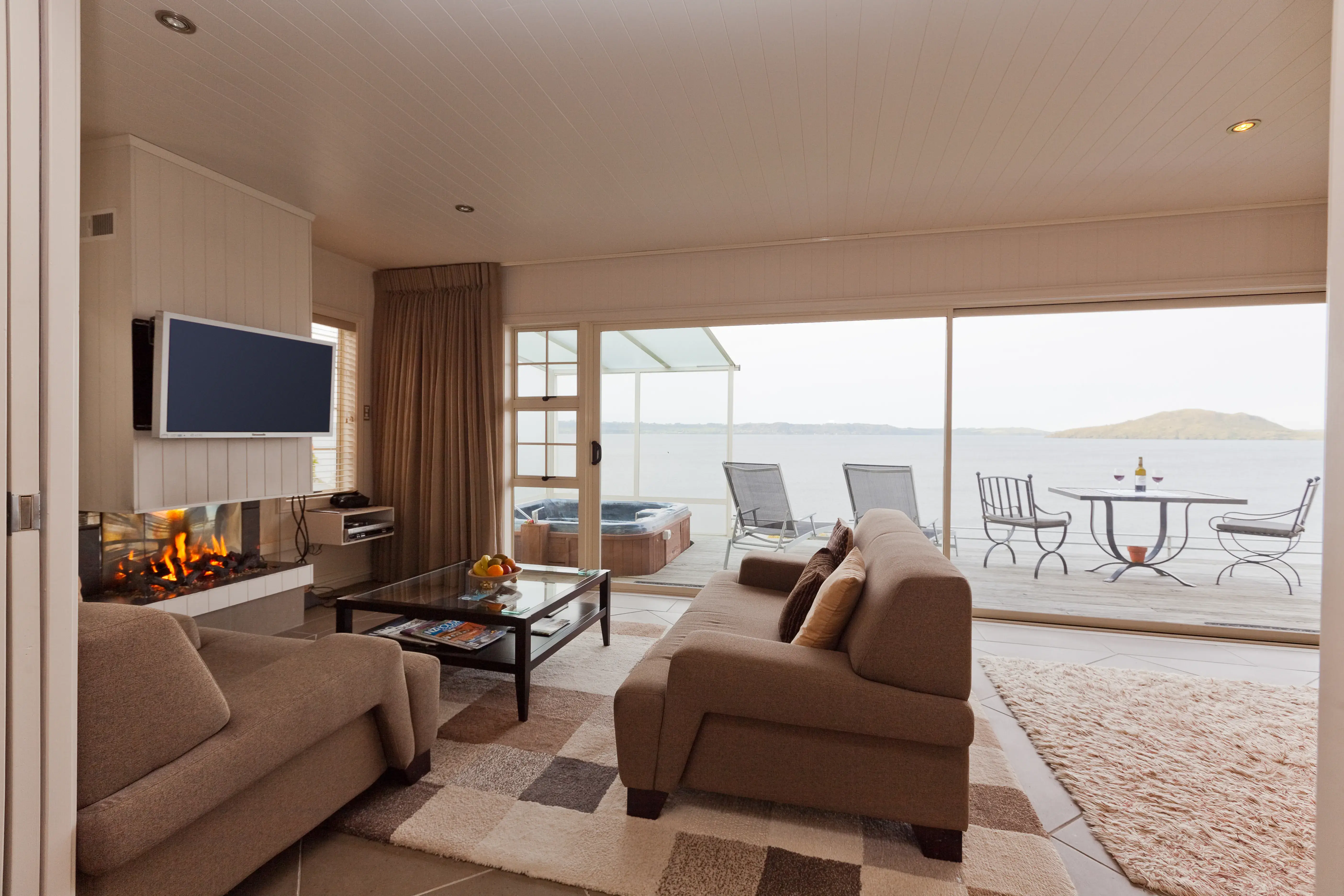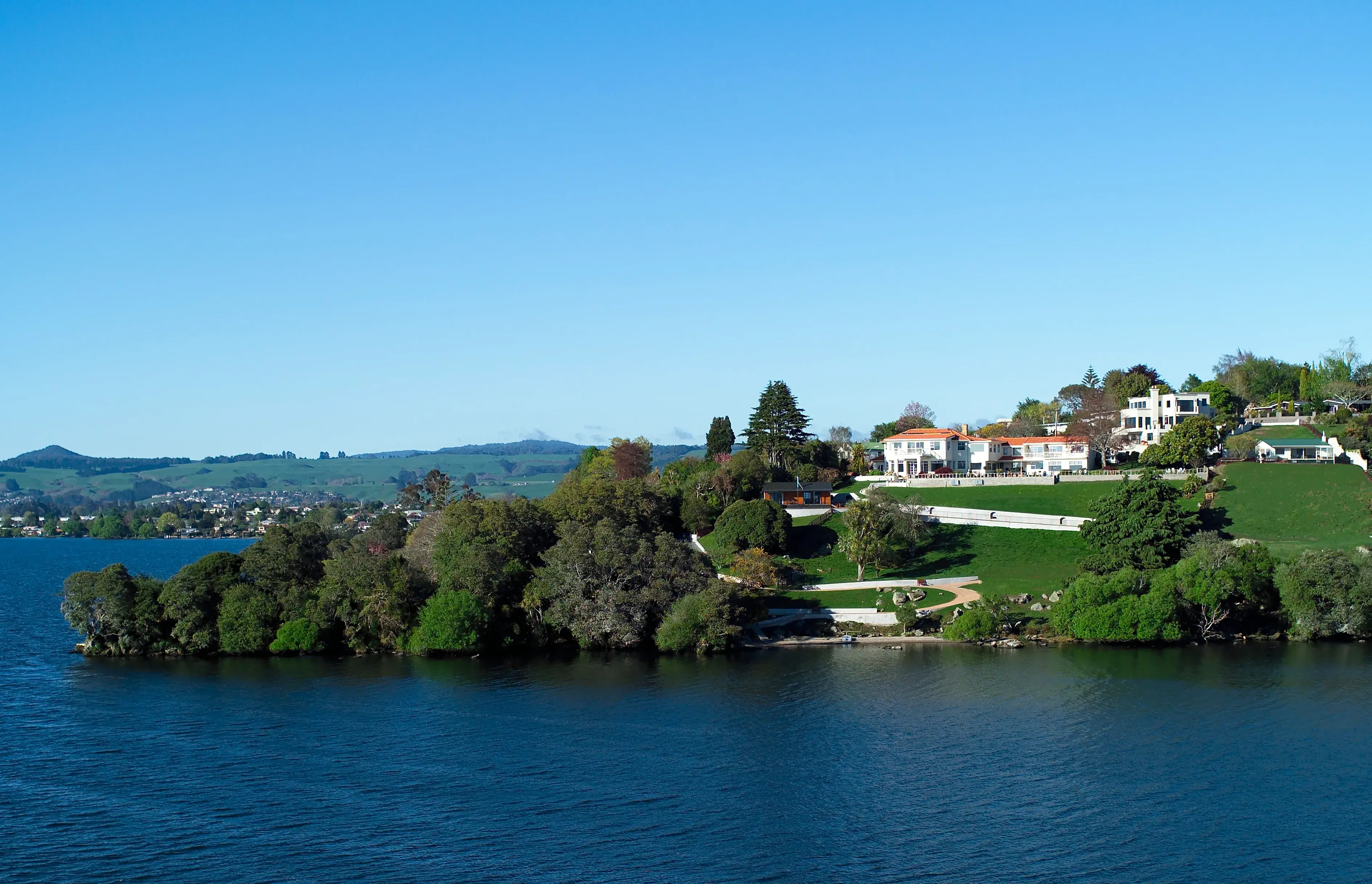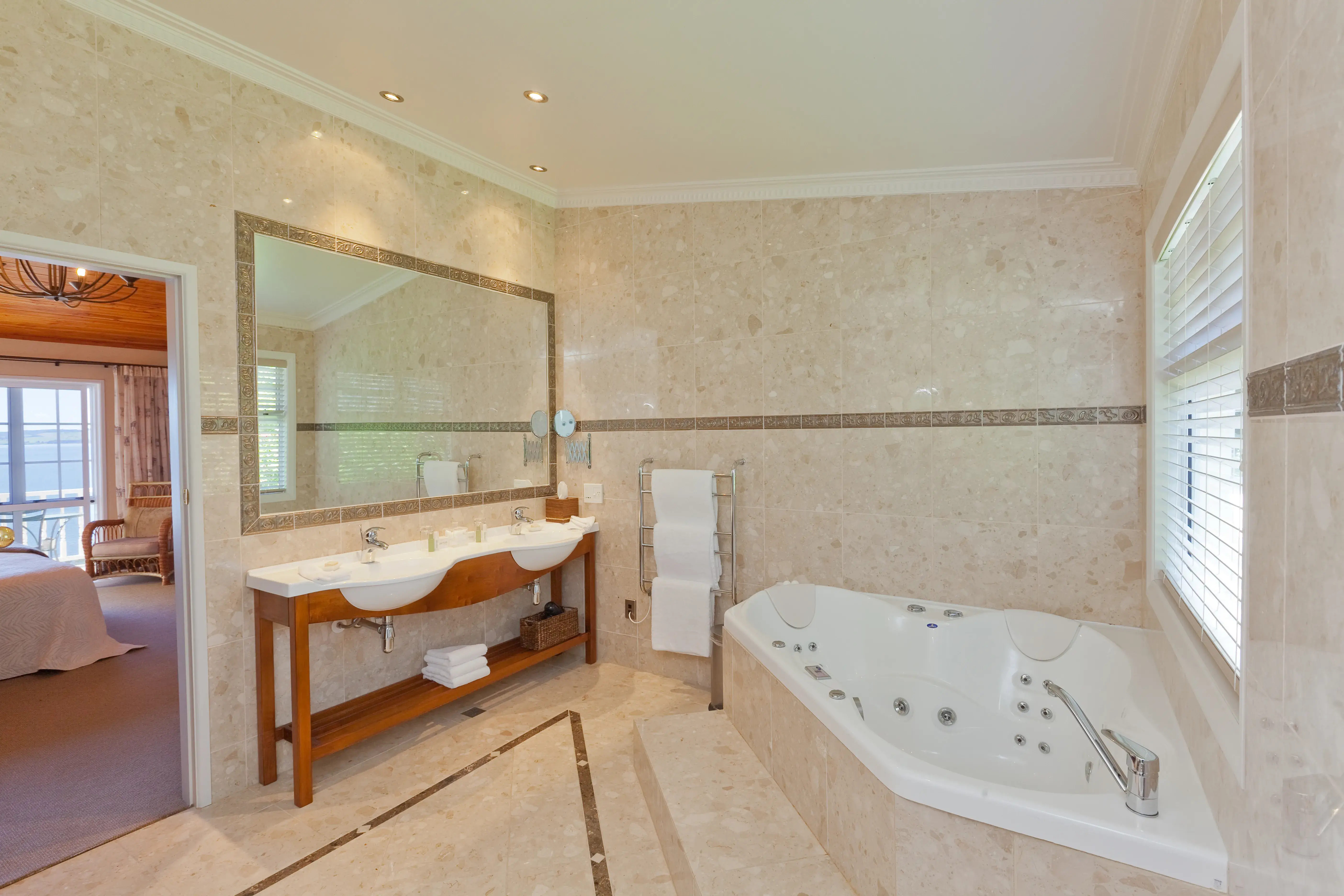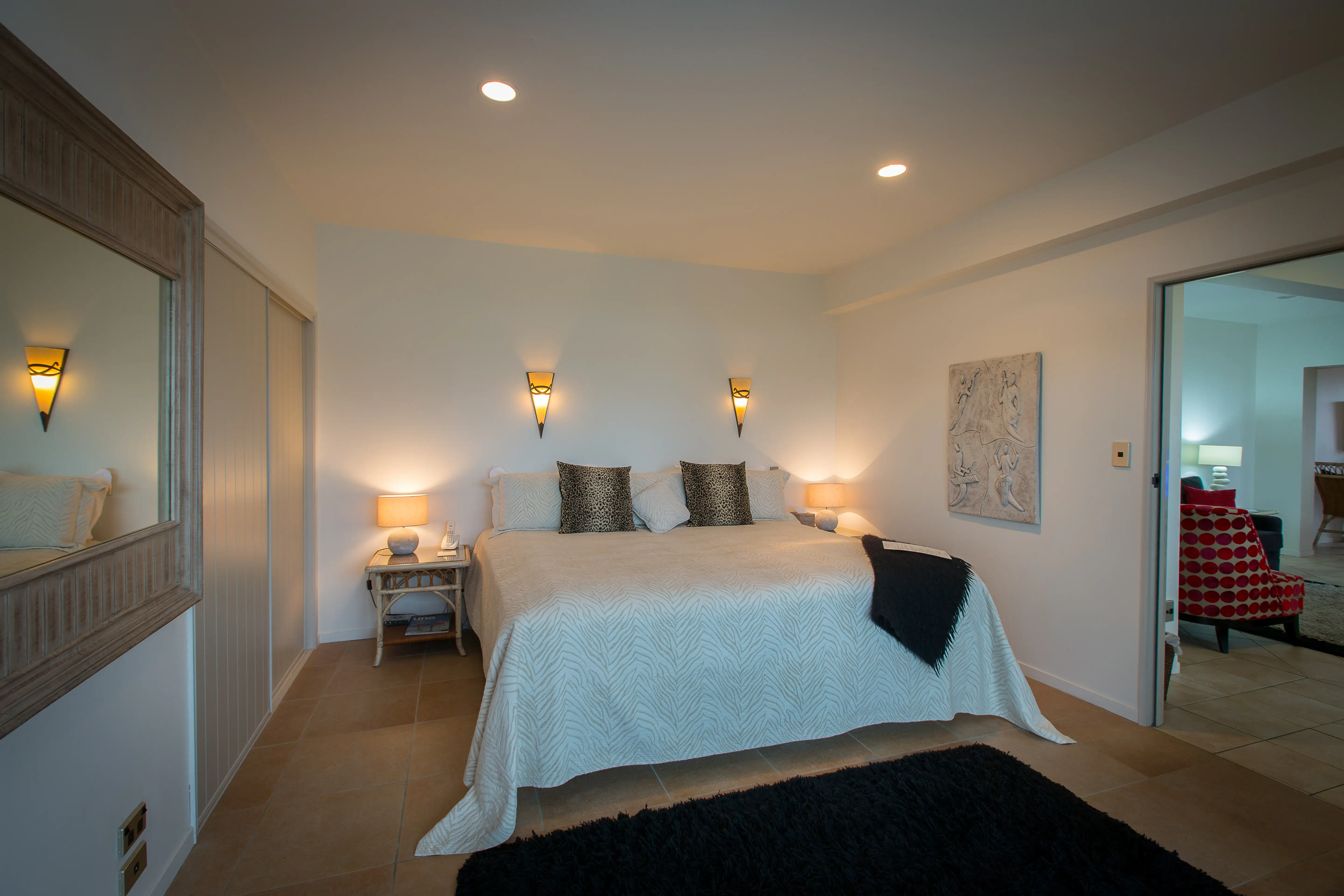 A unique property with timeless appeal
This former 1930s mansion retains its distinct charm and design throughout.
Now operating as an exclusive lakeside retreat, this property is the finest of lodges in Rotorua providing a rare and delightful kind of Rotorua accommodation.
On the Point has a relaxed and tranquil ambiance, with lavish features and amazing views over the beautiful Mokoia Island. Rotorua is a New Zealand Maori heartland in the Rim of Fire region with a cultural history like no other. You would never guess that this lakeside accommodation, so lovingly preserved, is just 5 minutes from the heart of the city.
The two-story mansion has been lovingly refurbished to retain its timeless appeal and character. Each suite has an inviting lounge area, ensuite bathroom and spa bath. Part of its charm is a large communal lounge with open fireplace, a timber-panelled dining room and elegant billiard room. Formerly a family home, many of the antiques remain which combined with modern luxury furnishings provide a comfortable and relaxing retreat. Families and groups will warm to the exclusivity and unique feel of On the Point.
Fitness / Gym
Garage Parking
Heating
Lake View
Mountain View
Snooker/Pool table
Breakfast Included
Office/study
SKY TV
Balcony
Wi-Fi
Outdoor Seating
Gated Entry
Library
On-site restaurant
Patio/Deck/Terrace
Indoor Fire
Private Garden
Laundry Facilities
Spa & Wellness centre
Private Jetty / Boat Access
Suitable for Events / Weddings
Tennis Court
Wheelchair Access
Main Suite
Bedroom 1King/Twin Bed + Ensuite Bathroom
Lodge Suite
Bedroom 1King/Twin Bed + Ensuite Bathroom
Bedroom 2King/Twin Bed + Ensuite Bathroom
Bedroom 3 King/Twin Bed + Ensuite Bathroom
Bedroom 4 King/Twin Bed + Ensuite Bathroom
Bedroom 5King/Twin Bed + Ensuite Bathroom
Bedroom 6King/Twin Bed + Ensuite Bathroom
Lake Cottage Suite
Bedroom 1 King/Twin Bed + Ensuite Bathroom
Bedroom 2King/Twin Bed + Ensuite Bathroom
Four-Bedroom Lake Villa
Bedroom 1King/Twin Beds
Bedroom 2King/Twin Beds
Bedroom 3Queen/Twin Beds
Bedroom 4Queen/Twin Beds
Bathroomx 3
Two-Bedroom Villa Apartment
Bedroom 1King Bed
Bedroom 2King/Twin Beds
Bathroomx 1