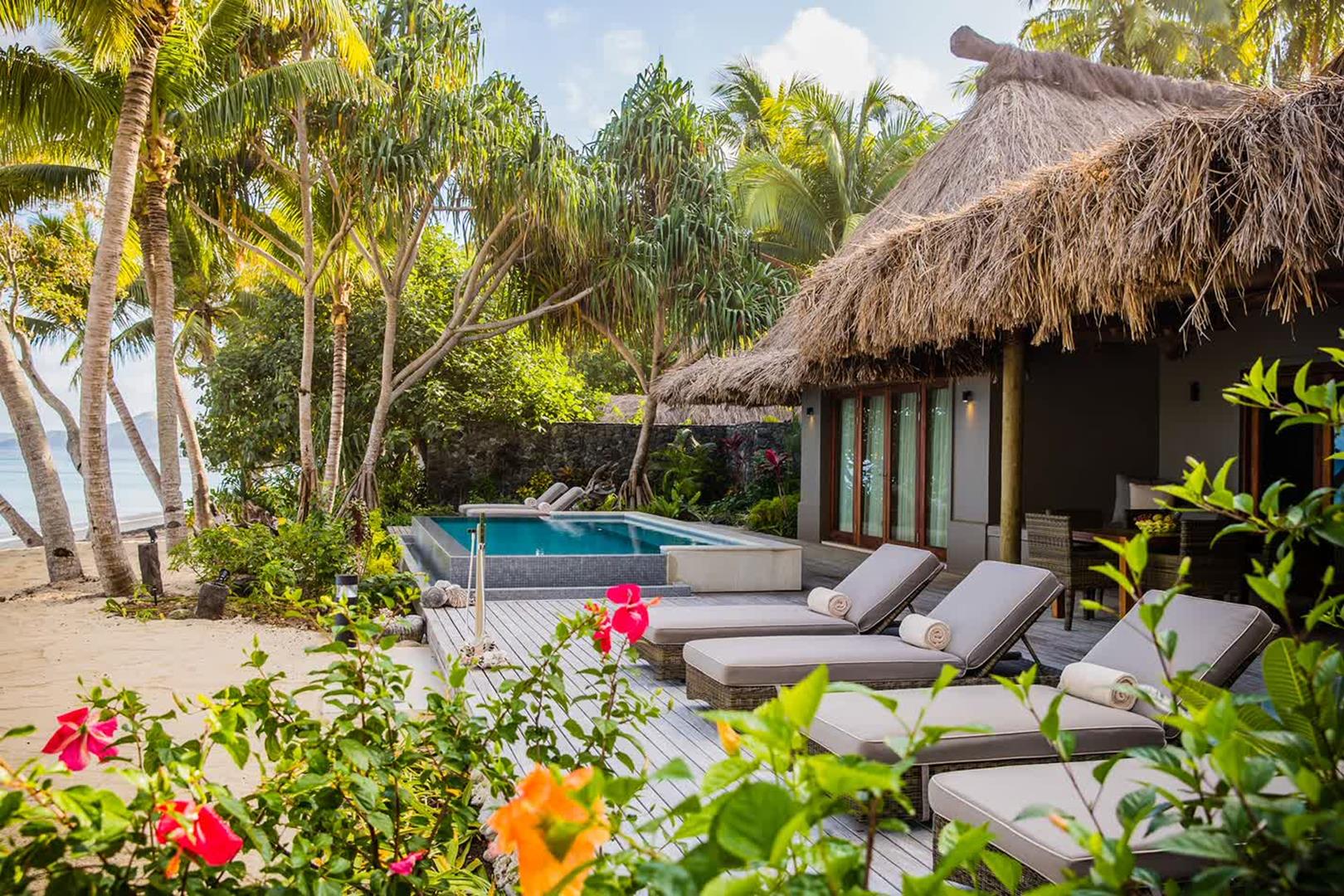 Fiji
Kokomo Island - Beach front villa
2
1
Concealed on the edge of the Celestial Kadavu Island Group, this untouched private island encapsulates the essence of barefoot luxury. Sweeping across 140 acres, Kokomo Private Island Fiji boasts an abundance of lush tropical gardens, showcasing native flora and fauna, encircled by fine white sand beaches that lead into the azure waters of the Great Astrolabe Reef. Kokomo's 21 exclusive villas are the epitome of privacy, luxury and space.
Each luxurious villa includes its own private pool, tropical walled garden, ocean views and direct beach access. Kokomo Island is approximately 45 minutes flight from Nadi International Airport and only 25 minutes South of Suva airport, on mainland Fiji. Guests are transferred to the island in comfort on Kokomo's private Twin Otter seaplane or helicopter.
Designed for the intergenerational traveller, you can relax with peace of mind knowing that Kokomo Island's premium vacation rentals are equipped with all of the luxury resort facilities to cater to your needs. Whether it is indulging in culinary delights, participating in one of the many water or land activities, dropping the kids off at the supervised kids club or transporting yourself to a haven of relaxation at the Yaukuve Spa Sanctuary.
Read more
Read less
Air Conditioning
Fitness / Gym
Ocean View
Private Beach Access
BBQ
Lounge
Wi-Fi
On-site restaurant
Laundry Facilities
Private Garden
Balcony
Swimming Pool
Tennis Court
Wheelchair Access
One Bedroom Villa (Sunrise or Sunset)
Bedroom King Bed
Two Bedroom Villa (Sunrise only)
Bedroom 1King Bed
Bedroom 2King Bed or 2 x Single Beds
Three Bedroom Villa (Sunrise or Sunset)
Bedroom 1King Bed
Bedroom 2King Bed or 2 x Single Beds
Bedroom 3King Bed or 2 x Single Beds