Beach Within Reach
On The Water
Adventure
14 Day Luxury Travel Itinerary
Discover the best of New Zealand's golf courses, scenery and culture in this 14 luxury New Zealand itinerary. Fly by helicopter, hike on glaciers, taste world-class wines and more.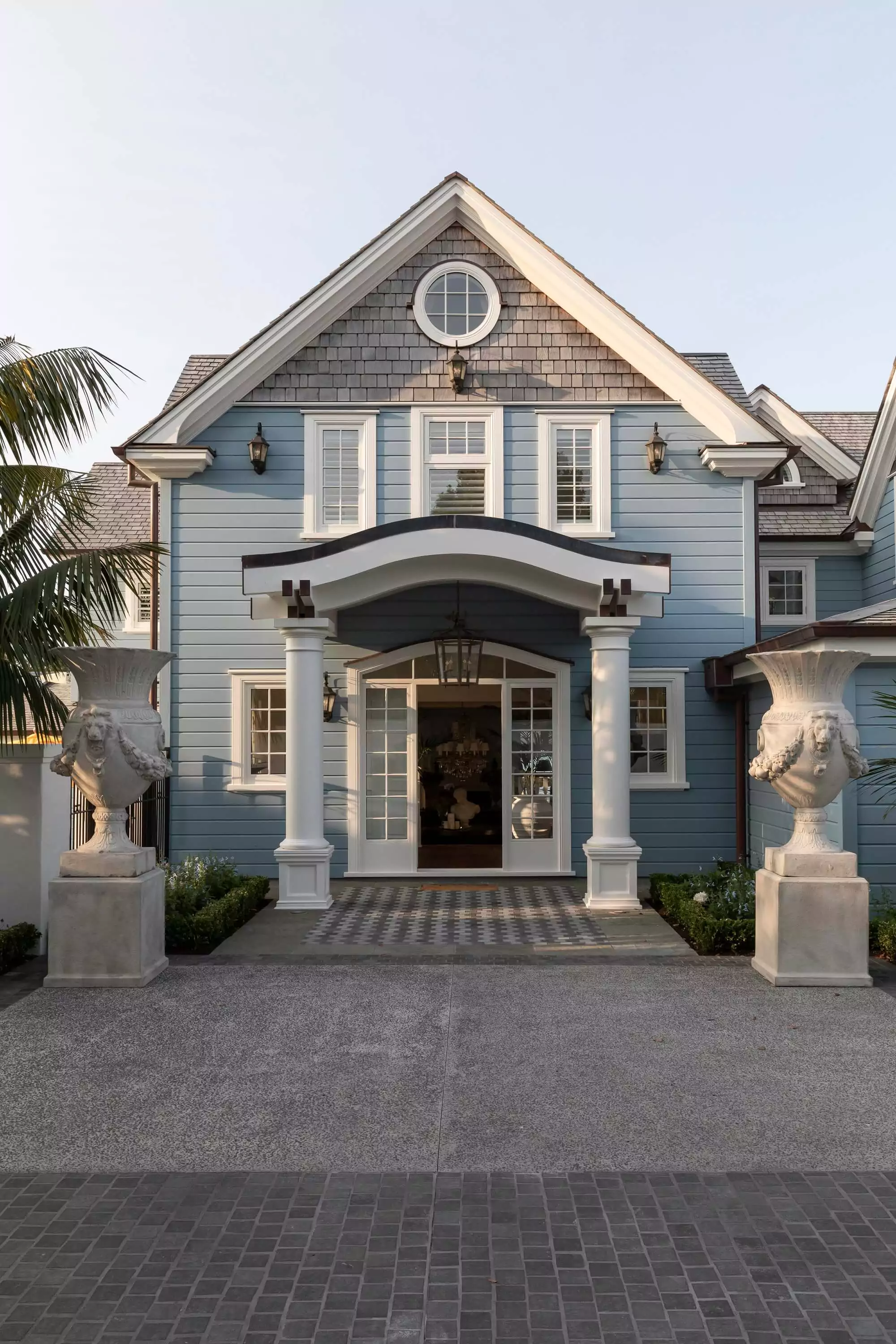 Day 1
|
Arrival at 'Somewhere' in Bay of Islands, North Island of New Zealand
After landing in your private jet in the sunny Bay of Islands – enjoy drinking Cristal champagne on your short helicopter ride to 'Somewhere' in Bay of Islands – a mega villa in its own league sitting on its own inlet on the ocean. After lunch you can choose to either lay by the pool or swim, paddle board, snorkel or jet ski from one of the two private beaches on the property. Dinner tonight is prepared by your private chef, served in the formal dining from of 'Somewhere' before returning to your private beach to listen to legendary New Zealand band Fat Freddy's Drop playing you off into the sunset.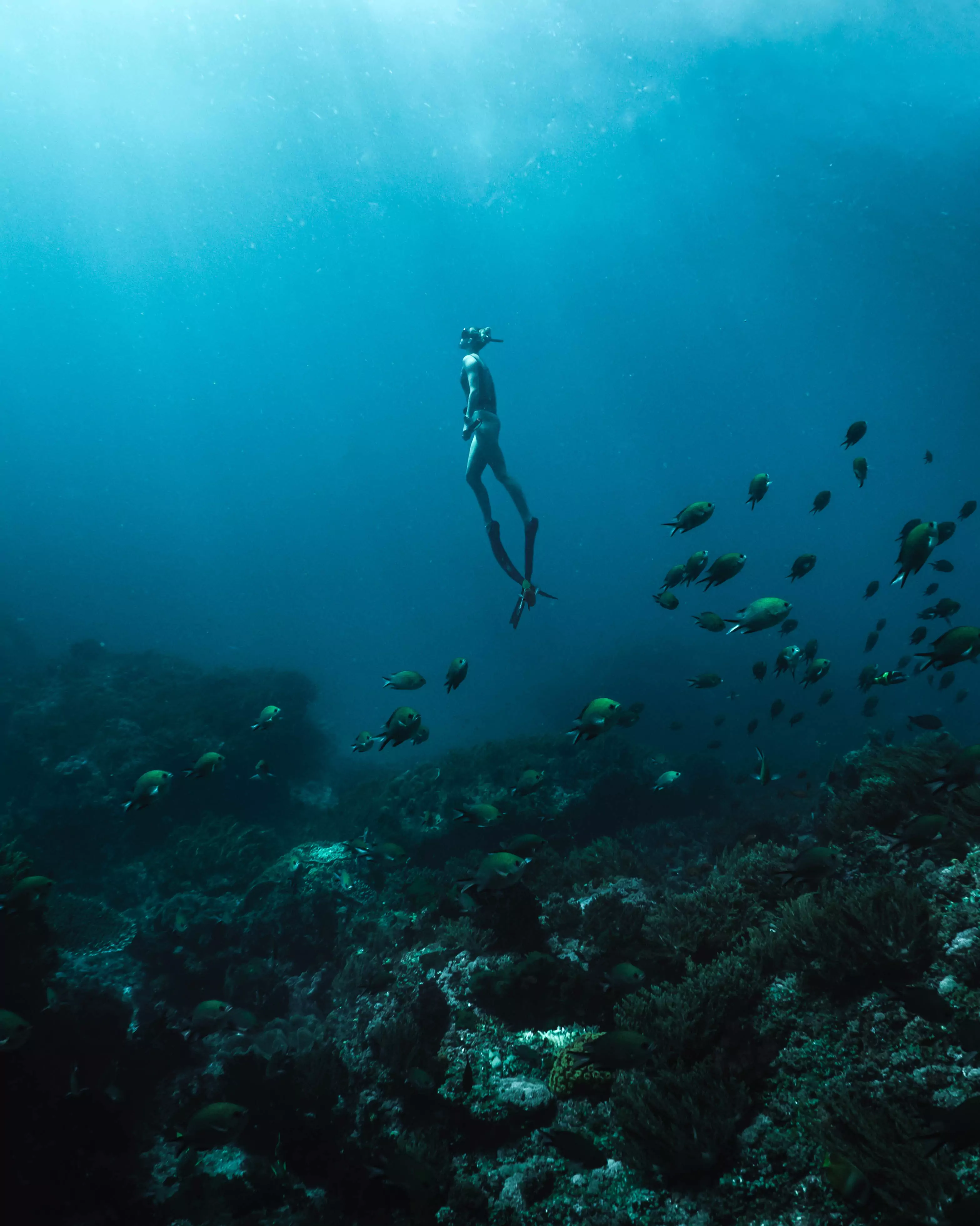 Day 2
|
Heli to Hangi Experience & Poor Knights Island
Feeling fueled from your in-house yoga session, morning beach swim and chef prepared breakfast, spend the morning diving in the Poor Knights Islands, currently being considered for World Heritage Status. Go a step further and dive into one of the many caves for a private violin performance in the incredible acoustics of your own private cave. After exploring this marine reserve, jump back on board your private yacht and try your hand at some deep-sea fishing for the catch of the day. Set sail back to the mainland and get whisked off by private helicopter (along with your catch) to an authentic Maori Hangi on a remote paradise beach, prepared by your private chef, for a true hook to fork experience. Once dinner has been served, return to 'Somewhere' by private helicopter.
Day 3
|
Set Sail From Bay of Islands to Waiheke Island, Auckland
Board your super yacht from the private jetty at 'Somewhere' and spend the day cruising down to Waiheke Island. Stop and swim with the dolphins as they roll by, jump out on one of the jet skis, fish for your lunch, or sit back and relax with a G&T before arriving at Waiheke Island. Arrive to a private wine tasting with your own in-house sommelier, sampling some of the country's finest and most exclusive wines. Enjoy a chef prepared meal on the deck to finish your day as the sun goes down.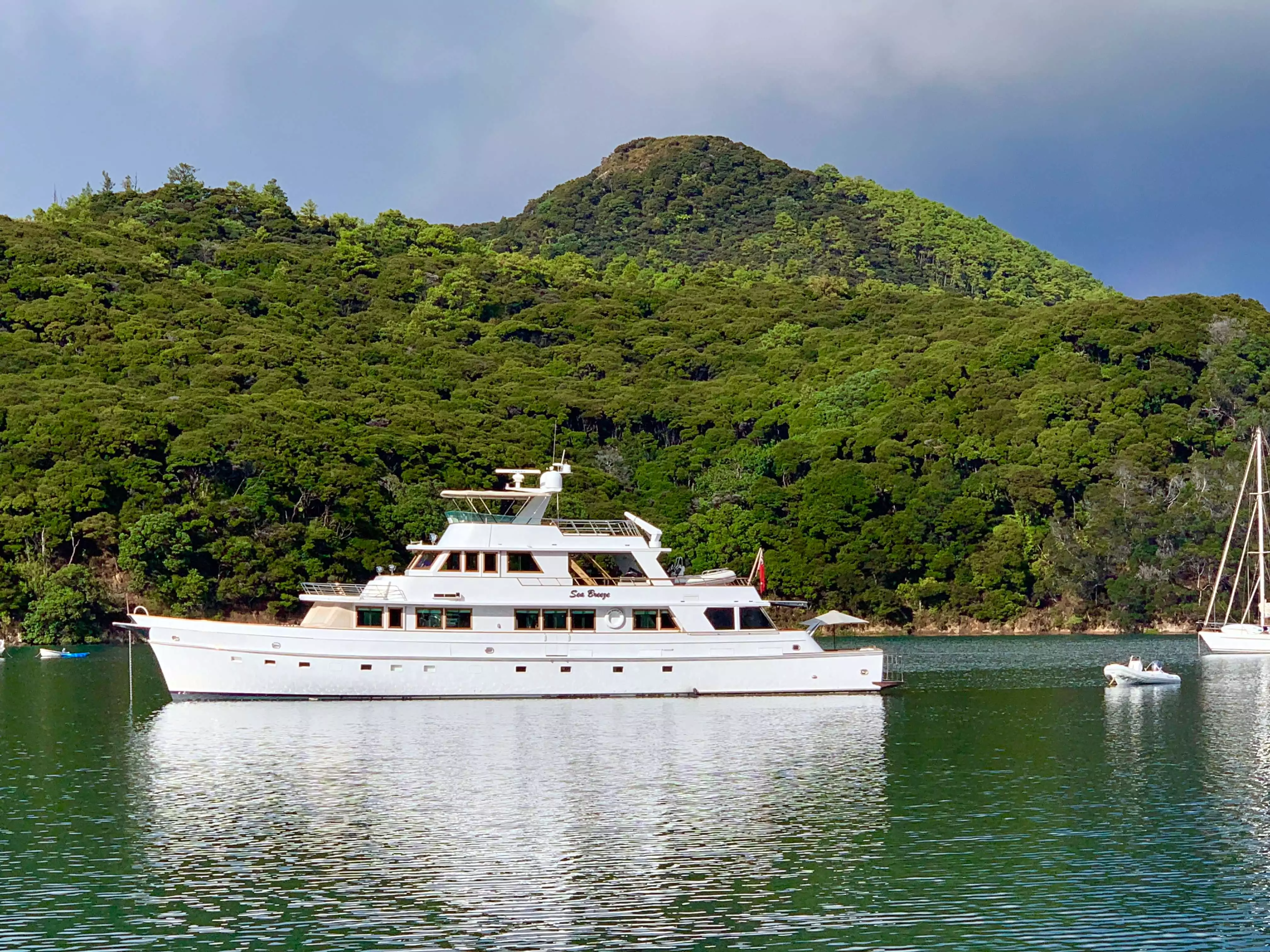 Day 4
|
A Taste of Waiheke Island
Meet your private guide for the day Julie Biuso (Ambassador for Le Codon Bleu Institute New Zealand & award-winning chef and writer) for a tour of her favourite island spots. Fly by private heli to meet the bakers, producers, and vintners, indulging in their delicious delights as you go. Collect produce from private orchards, gardens, and fishermen before arriving at Julie's private slice of paradise to cook alongside her or relax in the sun with a local glass of wine. Sit down in the courtyard for a delicious late lunch, serving up the best treats the island has on offer, with someone who knows it best. Finish the day by taking a scenic sail to Anchor at Man of War Winery for a private wine tasting with the wine maker himself. With a full buy out of the winery, guests can enjoy a dinner where delicious food, wine, and privacy are served in equal measure.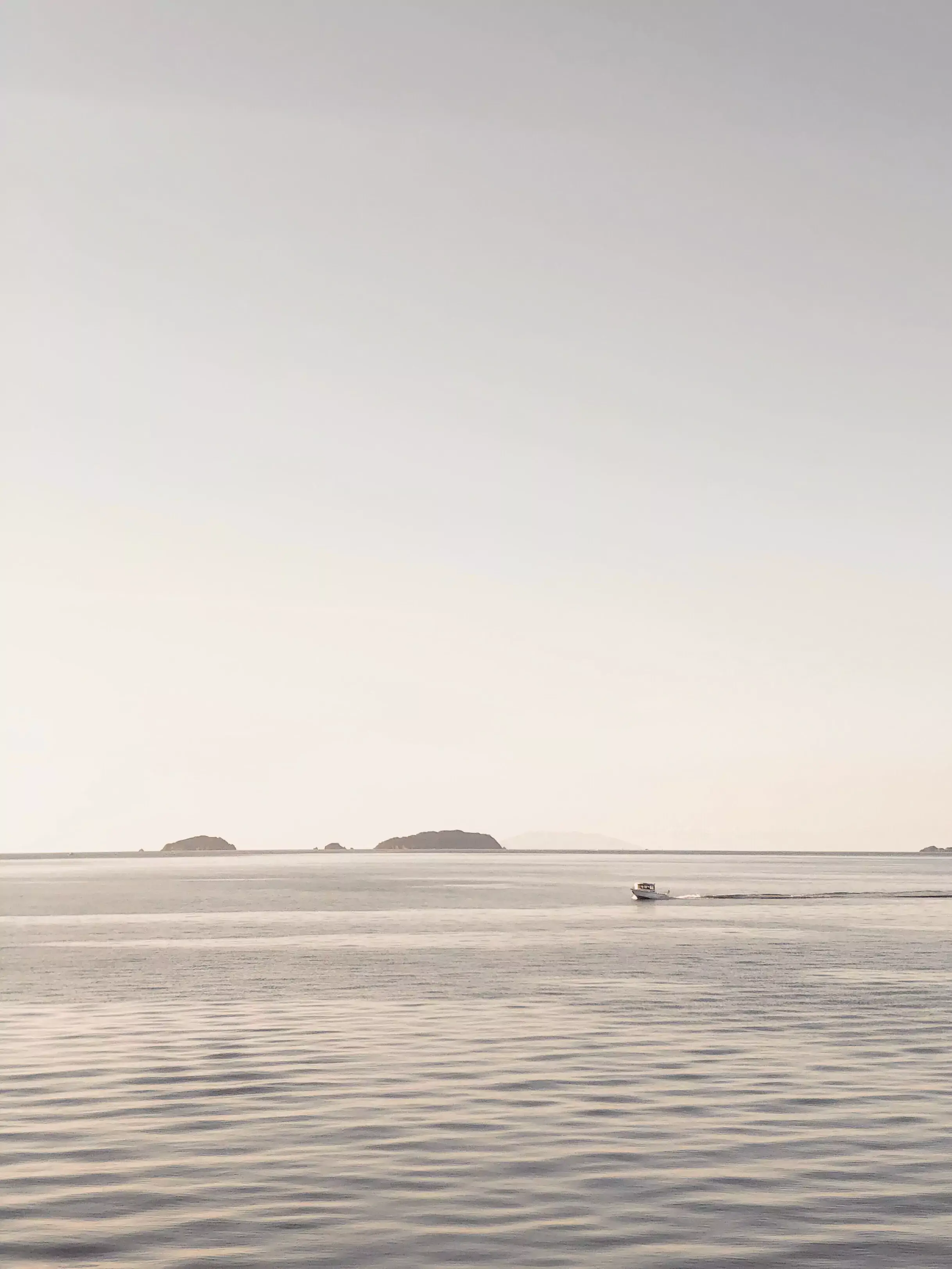 Day 5
|
Set Sail Around the Hauraki Gulf
Following a chef prepared breakfast and in-house morning massage. Get set for a laid-back day embracing a feeling of true island life. Enjoy a relaxing day cruising around Waiheke Island and the Hauraki Gulf after yesterday's adventures. Sail past Rangitoto, Motutapu, and Motuhihi islands and try your hand at fishing for fresh snapper, letting the onboard chef prepare a delicious lunch for all guests onboard. In the afternoon, hop off the boat for a privately guided walk around Rotorua Island, a conservation sanctuary that is home to many species of bird and native plants.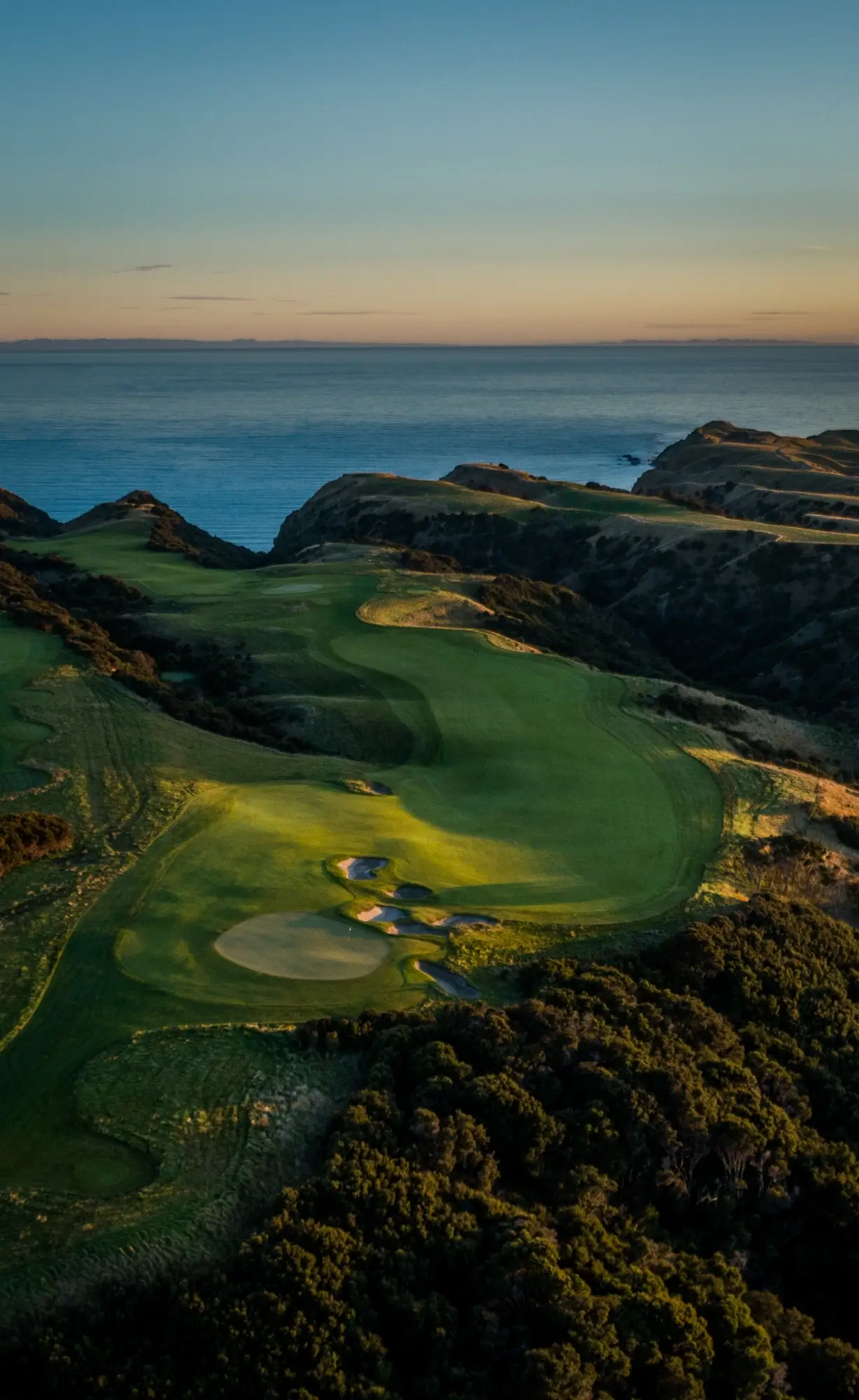 Day 6
|
Waiheke Island to Cape Kidnappers in Hawkes Bay
Rise and shine to breakfast by the pool before flying by private helicopter to the renowned Farm at Cape Kidnappers. Guests can take in the picturesque cliffs and turquoise blue oceans as they arrive by air to one of New Zealand's most premium lodges for a delicious lunch served overlooking the world-famous golf course. Spend the afternoon at leisure exploring everything that Cape Kidnappers has on offer. If guests are looking to get out on the golf course, join legendary Michael Campbell for a round or two – improving your game and learning tips from a pro first-hand. Finish the day with a private dinner served in your private Owners Cottage before sinking into the hot tub under the stars with a glass of Hawke Bays finest wine.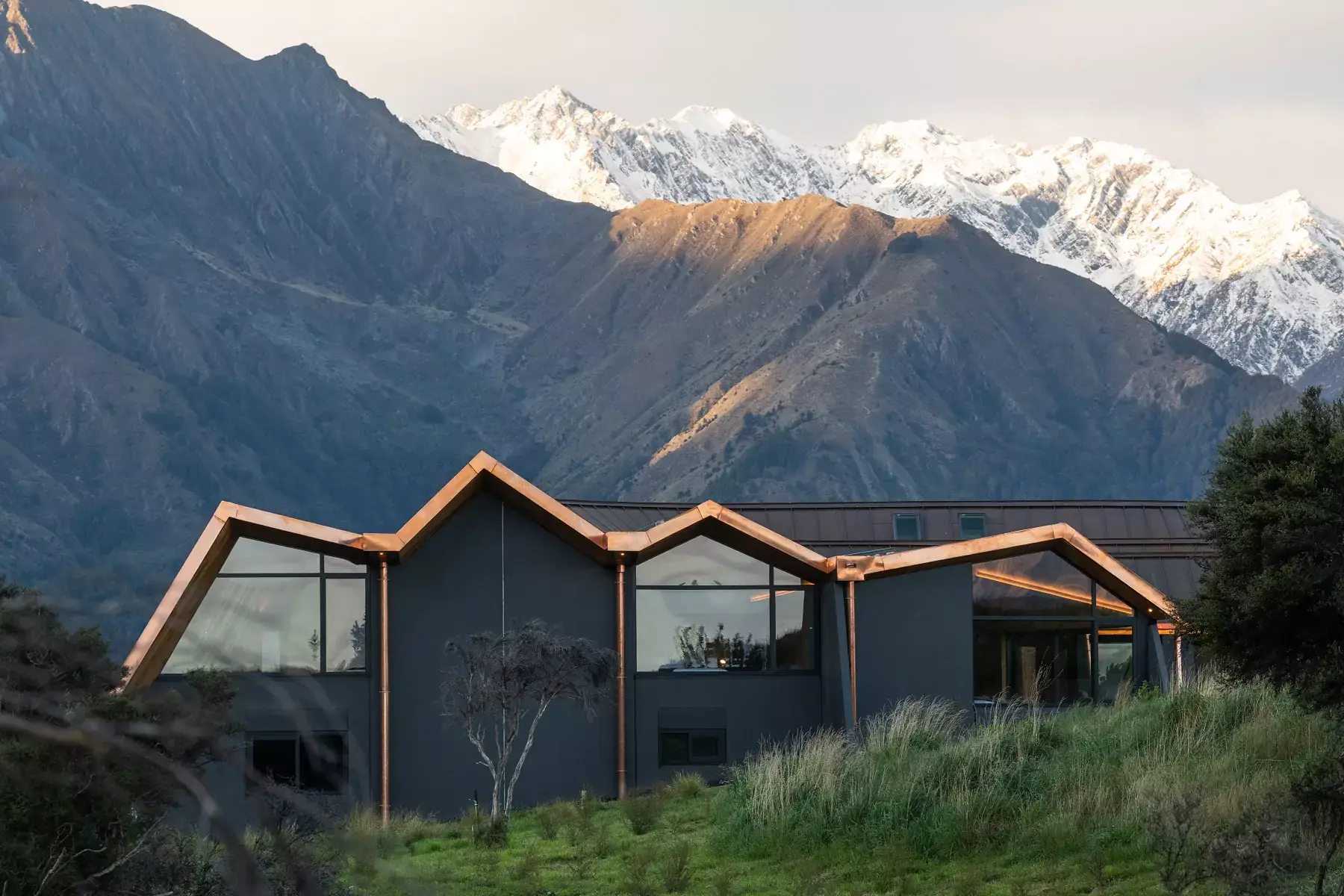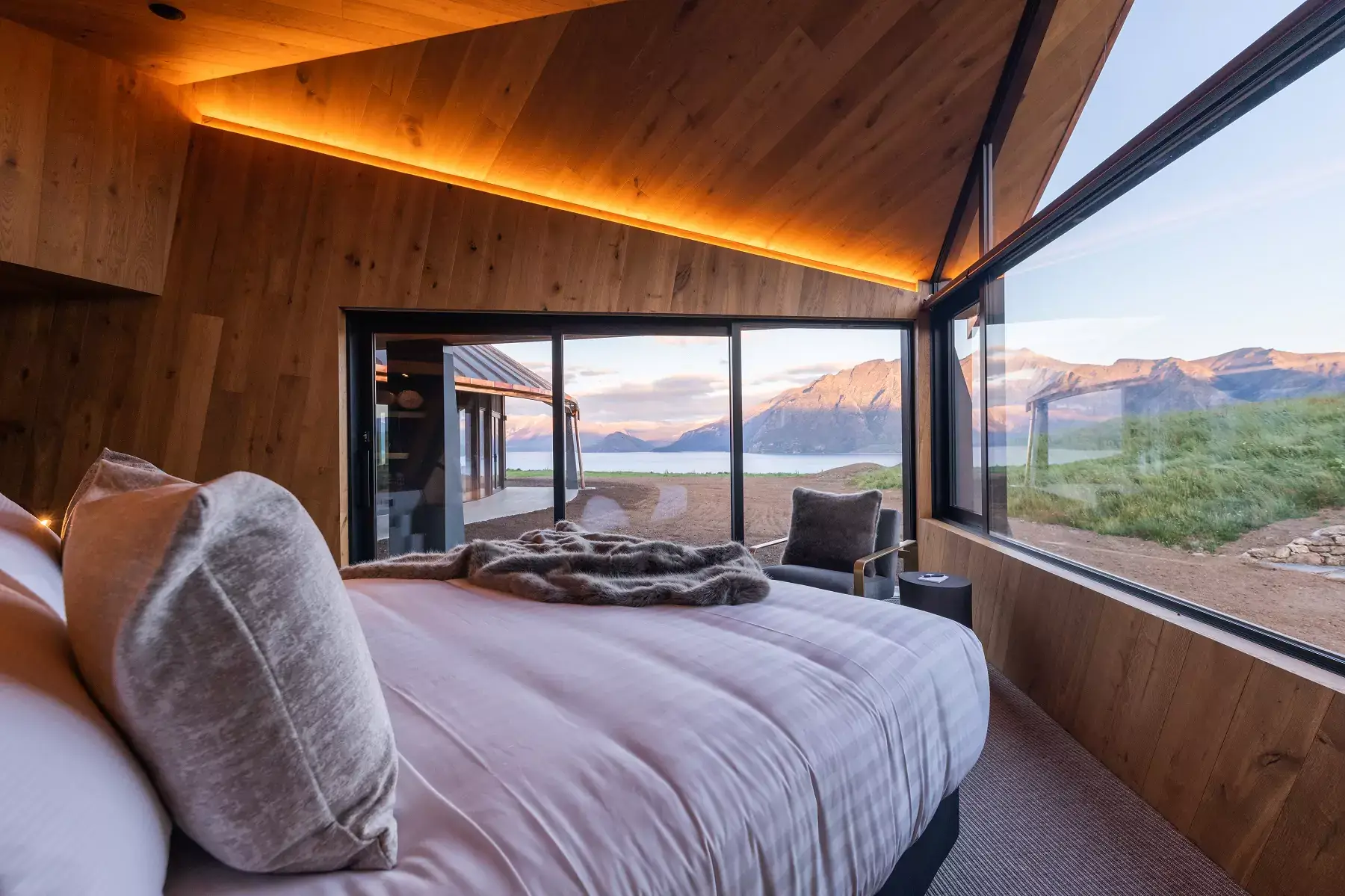 Sacre Monte truffle hunting & exclusive wine tour
Following a chef prepared breakfast and morning spa treatment, guests will join their private guide for a truly unique experience hunting for delicious underground delights - Sacre Monte Truffles. Following the nose of the truffle hunting dog and guidance of the local guide, guests will get a chance to get their hands dirty digging up their own truffle treasures. Guests will then jump into their awaiting private heli for a private wine tour exploring some of Hawkes Bays most exclusive cellar doors – many not even open to the public. Once guests have returned to their Owners Cottage, landing on the front lawn by private heli, a private chef will serve up a three-course dinner that makes your personally hunted truffles the star of the dish. The in-house sommelier will match the chef's menu with some of the most exclusive wines available from the private wine cellar at Cape Kidnappers – a delicious day from start to finish.
Fly by private jet from Hawkes Bay to the shores of Lake Wanaka, in the South Island, and prepare to go above and beyond. Jump in a private heli and journeying through a variety of stunning landscapes with expansive mountain and glacial views towards a remote alpine ridge on the boundary of Mt Aspiring National Park over Lake Wanaka towards the luxurious Whare Kea Chalet. Located at 1750 metres (5700 feet) in the Albert Burn Saddle on the north side of Dragonfly Peak, this mountain top Chalet will be your home for tonight. Relaxed yet luxurious, indulge in a delicious dinner prepared by your guide (perfectly paired with local wine) as the sun goes down over the peaks. Stargaze with a small night cap to finish off your adventurous day.
River rafting wilderness experience
Rise with the sun to a cup of freshly brewed coffee and prepare for another day of adventure. Fly back to base in Wanaka, taking in the crisp views basking in the early morning light to get suited and booted in top of the range rafting gear before being transferred by state-of-the-art Land Rover to the crystal-clear waters of the Hawea River – only a short drive from Wanaka. The Hawea is a grade 2 river with a mix of fun rapids and beautiful deep blue/green swimming holes. In the early afternoon, your guide will pull into a secluded and private setting riverside, where a private chef awaits with a beautiful luncheon. Following lunch, you will be transferred to your luxurious accommodation for the night – Mt Isthmus.
Rock out on a mountain peak
Waken at your leisure to a gourmet breakfast followed by a relaxing inhouse massage after yesterday's activities. Enjoy a morning at leisure taking advantage of the lake facing hot-tub, games room, and media room before your private heli lands on the front lawn. From here it's all about rocking out like a true star. Fly to a remote mountain top peak for an exclusive rock concert overlooking Lake Wanaka and the surrounding peaks – the ultimate VIP backstage pass. Sample some of Wanaka and Central Otago's finest craft beers straight from the keg at your very own VIP bar and rock out as the sun begins to set behind you. Finish the day like a true Rock star by flying over the hill to neighboring Queenstown to arrive at your premium residence for the night – Lodge at The Hills. Relax in the sauna, pool or spa pool after some golf on your own par-three hole before dining in the underground dining room designed to feel like the inside of a whale.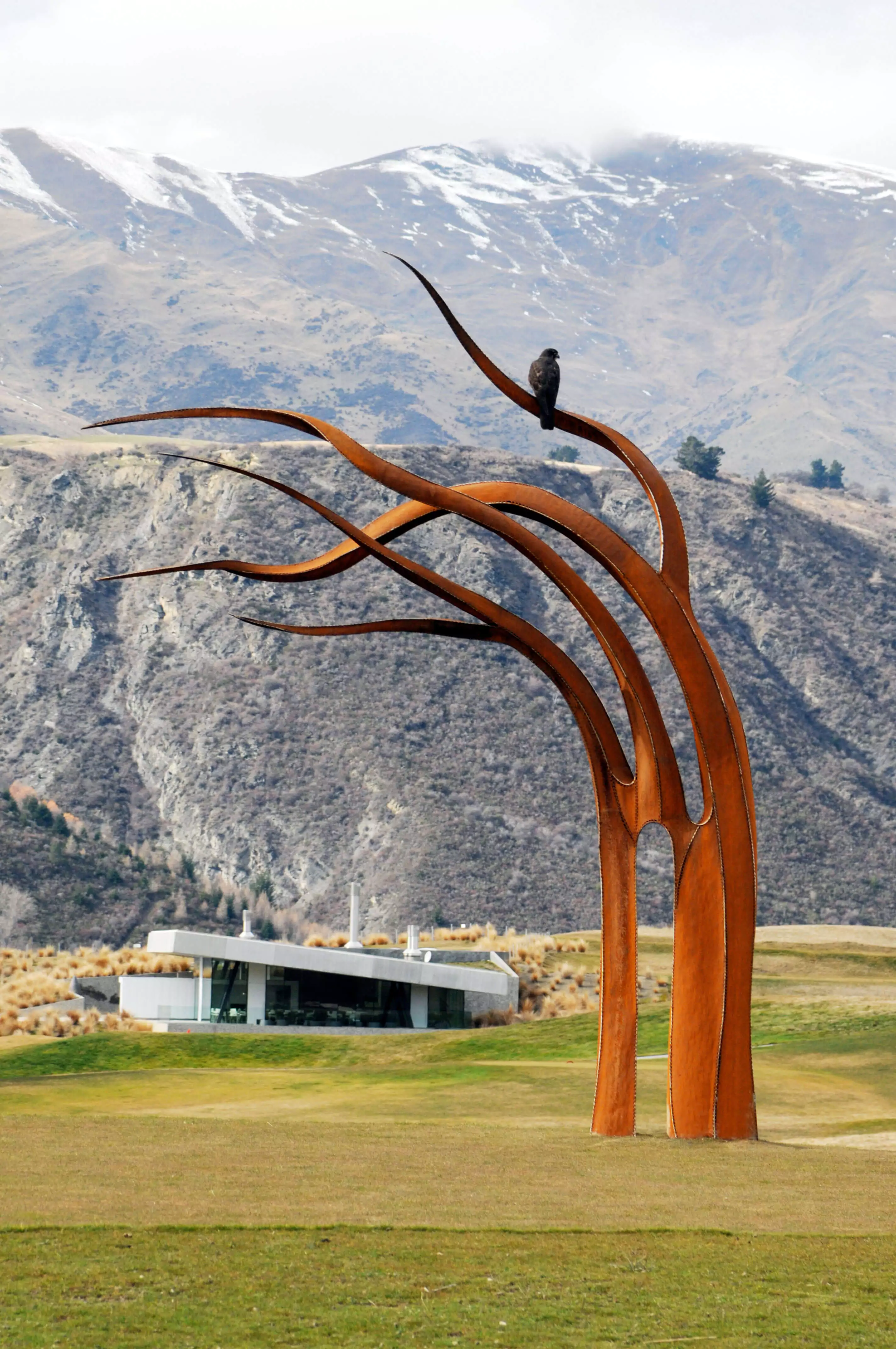 Day 11
|
Golf at the Hills
Take to the world-renowned Hills Golf Course in neighboring Arrowtown. Sir Michael Hill's private golf course in Arrowtown was designed by Darby Partners and opened in 2007 to host The New Zealand Open. Set over 500 acres of land across a glacial valley. The Hills is home to an incredible array of flora including native brown top grasses and wild native mountain tussocks. Sculptures crafted by New Zealand artists compliment the natural beauty of the course's lakes, waterways and wetland areas. The 6596-meter par 72 championship course features numerous elevated tees offering players an excellent view of the challenge ahead and 360-degree views of spectacular snow-capped mountain scenery. There are no parallel fairways and no two holes alike.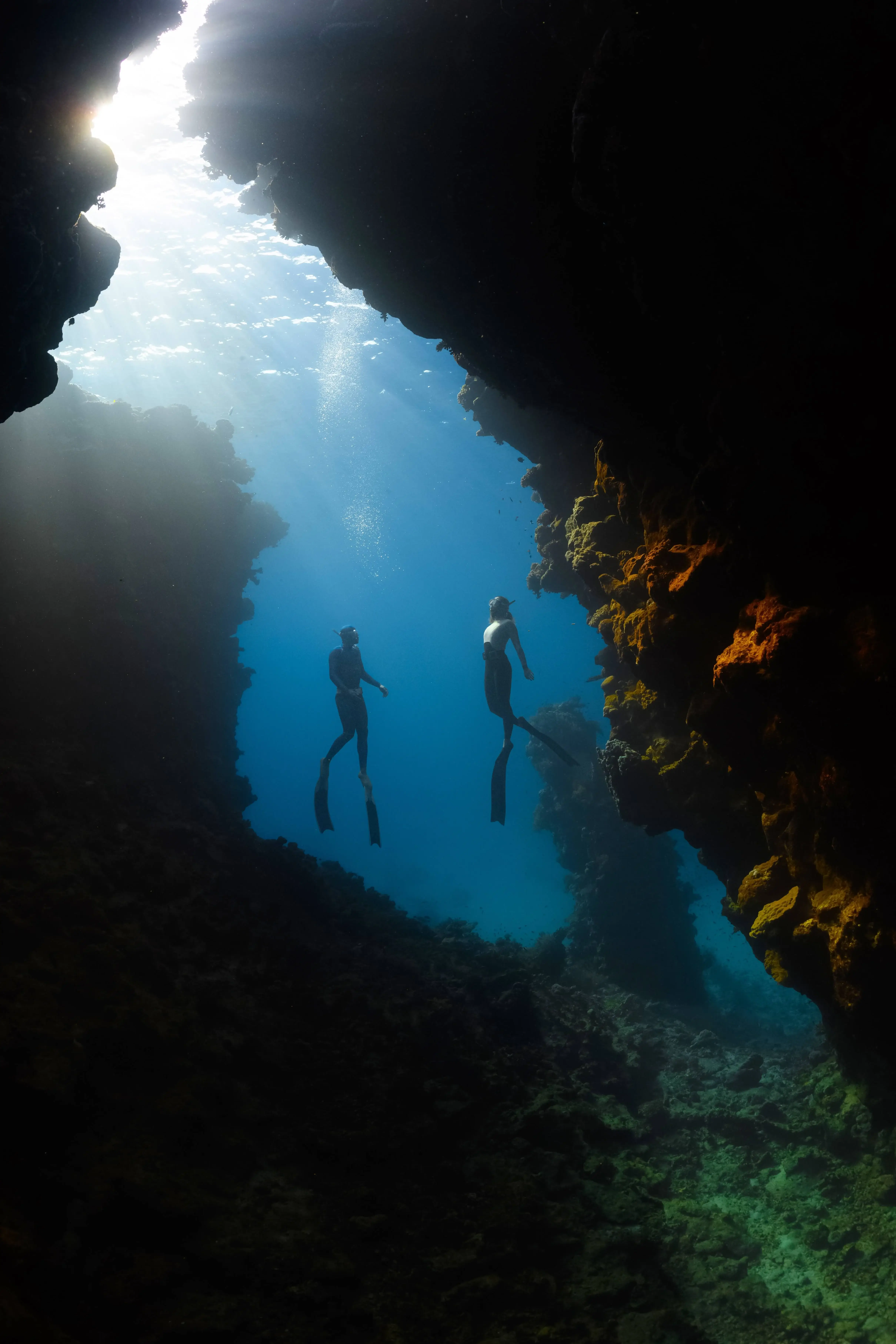 Day 12
|
Dive and Dine at Dusky Sound
Fly by private helicopter south of Queenstown over rain forests, mountains and deep glaciated valleys towards beautiful Dusky Sound in Fiordland. After a stunning scenic flight, you will land on our custom-built floating helipad and transfer to our boat to enjoy a day of fishing, discovery, and wildlife viewing. Enjoy some finishing before your private guide dons the wetsuit and dives in to catch fresh crayfish to be served for lunch on board as you sail back to your awaiting transfer - a lunch spot that will be hard to beat! Return to Lodge at The Hills by helicopter for a private in-house wine tasting with one of the finest sommeliers in the region to taste wine not yet available to the public from the luxurious comfort of Lodge at The Hills. Finish your day with a chef prepared dinner followed by a glass of wine by the outdoor fire.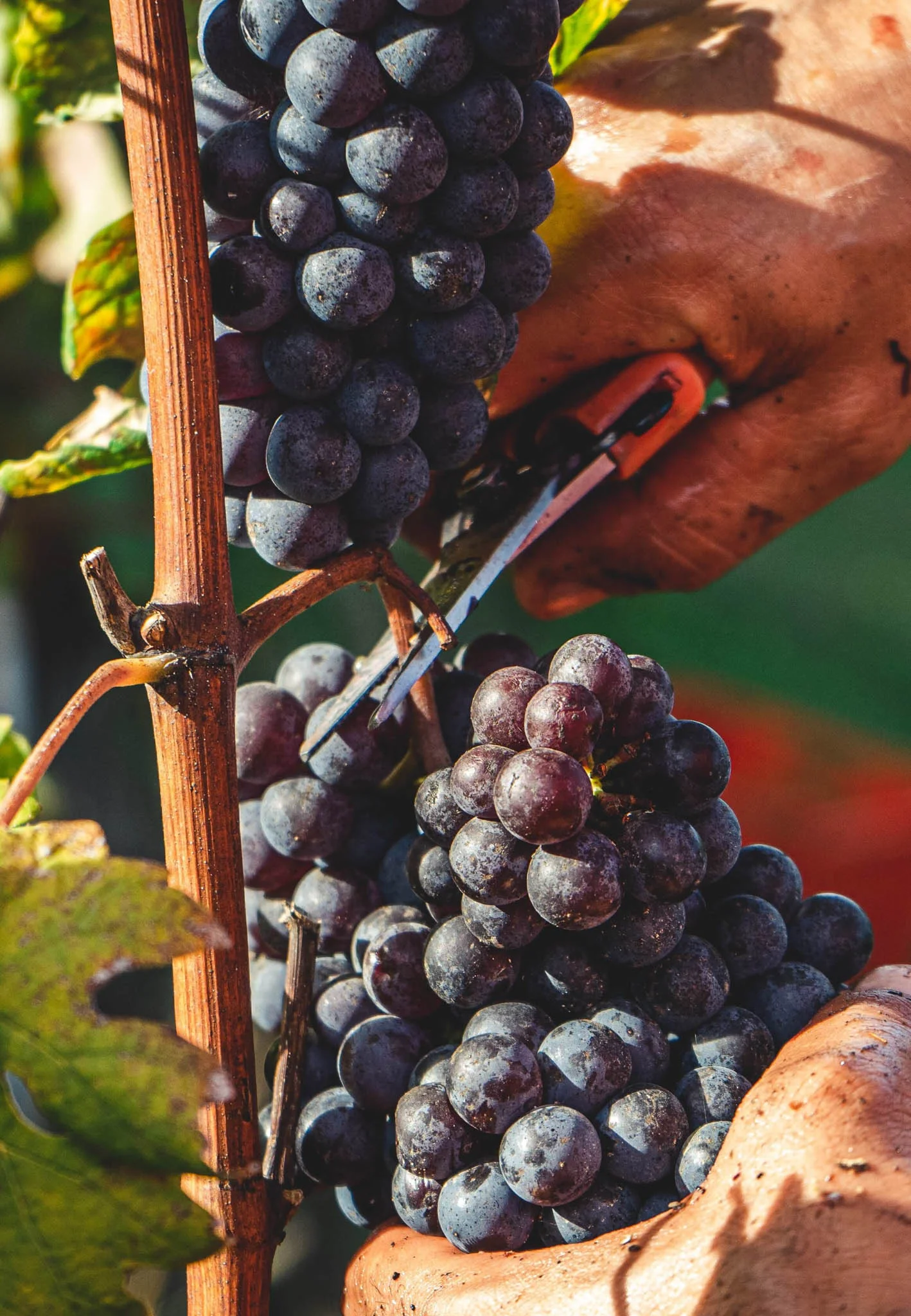 Rise and shine at your leisure before indulging in a morning yoga session by the pool. Your private guide will meet you at Lodge at The Hills before driving you to historic Arrowtown for an exclusive 'behind the art' gallery tour. You will then be driven out to Gibbston Valley, known as 'Valley of the vines', to sample, sip and savour some of the world class pinot noir on offer from some of the best wineries and most exclusive cellar doors in the world. Finish the day with some fresh Bluff Oysters served alongside Champagne at Romer Gallery in the heart of Queenstown. Talk with resident artist Stephan and hear all the 'behind the lens' stories he has to share about each piece before sitting down to dinner served in the gallery by neighboring Botswana Butchery. Finish your last evening in Queenstown off with some cocktails in one of the many renowned bars before returning to Lodge at The Hills.
Rise early to enjoy yoga on your last day at Lodge at The Hills. After your private yoga session, breakfast is served in the casual dining room. Enjoy a relaxed morning before being transferred to Queenstown Airport to board your awaiting private jet, ready to take you homeward bound.